Your personal skin-care consultation will provide you with an individualized protocol for your specific skin condition and recommendations for your daily regimen.  Consultations are FREE.  Skin treatments are $75.00 and include face & neck — $25 extra for decollette.  Most people who take care of their skin and desire basic anti-aging maintenance and/or acne prevention treatments only need one layer per month.  This will stimulate collagen, inhibit irregular pigment and promote healthy cell proliferation and turnover. These are the reasons for doing a peel.  Our skin cells turnover monthly which is why it is important to stay on a treatment schedule of every 4-8 weeks. Humans shed about 600,000 particles of skin every hour without the help of peels.   Hence, it is not always necessary to see peeling from peels. As a matter of fact, if you are taking proper care of your skin, it is likely that you won't peel.  It is important to avoid over-treating which can attack healthy tissues.  Some people with cystic acne and extreme hyperpigmentation require  Deeper Peels. There is a $25.00 charge for each additional layer. 
Call:  480-540-7555 to order products or schedule an appointment.  We are located in Ahwatukee inside Signature Salon Studios at 40th Street and Chandler Blvd.  FREE Consultations. PCA chemical peels and professional products for homecare.  
A-Peeling Faces highly recommends PCAskin® products for our client's homecare to address a variety of skin-care concerns.
Our Corrective Skin Care Treatments include:
(Available for Face and Body, i.e back, arms, legs, hands)
Microdermabrasion:
A non-surgical non-invasive skin resurfacing procedure created to work with the skin's system of growth and replacement. A fine controlled spray of crystals removes the outer layer of the skin accelerating your own cell turn over, revealing the younger-looking, tighter healthier skin underneath. Safe for all skin types and colors, many people notice improvements in the texture and appearance of their skin immediately after the first treatment.
Some of the most common skin conditions are as follows:
Anti-aging
Fine lines & wrinkles due to diminishing collagen, lack of cell proliferation, cracking due to lack of hydration, lack of exfoliation, sun exposure, smoking, external environment, overall lifestyle and genetics.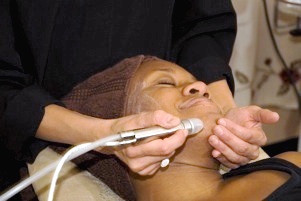 Hyper-pigmentation
Abnormal pigment & discoloration, including brown and red, due to sun damage, post-inflammatory due to acne scarring, sun exposure, aging, and hormones which can cause increased tyrosinase and irregular deposits of melanin.
Acne
The presence of bacteria underneath the acid mantle or superficial layers of the skin, clogging the entire pore and follicle, irregular sebum production, and build-up of keratosis cells on the surface. Conditions can range from blackhead and whiteheads to deep cystic lesions and nodules.
Rosacea
Flushing and persistent redness, visible telangiectasias, and more severe cases can be accompanied by pustules, papules, thickening of the skin and nodularities and enlargement of the nose, irritation of the eyes, dryness and itching. Some of the causes can be from extreme temperatures, excessive alcohol or caffeine, aggressive exfoliation and genetics.
Dermatitis
Dry red itchy patches of the skin that result from direct contact with something that irritates the skin. Severe cases can turn into Psoriasis or Eczema. In eczema sufferers high levels of antibodies are evident in the body reproducing allergen activity usually to internal or external toxic culprits. Psoriasis is usually due to poor liver function. It is a result of rapid cellular growth resulting in reddish lesions usually with silvery scales that leave the skin bleeding underneath.
Corrective Skin Peels:
Chemical peels help to reduce the signs of aging by treating wrinkles, hyper-pigmentation & rosacea. Each treatment is designed for the client's individualized skin condition. A-Peeling Faces uses PCASkin facial peels and masks including:
Enhanced Jessners – Exfoliates, bleaches, and inhibits pigment production while helping to repair and reduce breakouts, control oil, soften lines and even out texture.
TCA – helps treat acne, hyper-pigmentation, fine lines, and wrinkles while keeping the skin plump and hydrated.
Salicylic Acid – The keratolytic action helps smooth texture, clear blocked follicles, and reduce breakouts while rejuvenating sluggish dull complexions.
Lactic Acid – a mild peel to treat wrinkles, rosacea and hyperpigmentation and inflammation.
Retinol – helps create a protective barrier allowing the absorption of vitamins, antioxidants and other activities into the skin for maximum smoothing, tightening and brightening.
Prices
All skincare treatments $65 per session.  $25.00 per additional layer if necessary.